VPNTunnel is a fairly new virtual private network (VPN) provider, based in Sweden. At present the company has servers located in five European countries, but has plans to increase this number significantly. Getting connected to VPNTunnel is simply a matter of ordering and paying for the service, waiting for email confirmation and then logging in.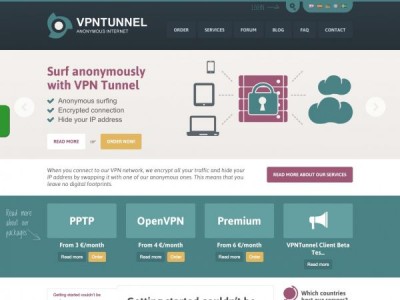 The company offer a variety of user packages ranging from a basic PPTP plan at budget prices to a more secure OpenVPN plan and a premium package, offering PPTP and OpenVPN. All three plans are available monthly or in a variety of different periods of time, with prices for all plans coming in at extremely competitive rates. It's also possible to upgrade or downgrade plans at any time via the website. The PPTP plan works with Linux, all operating systems running Windows, Mac, Android and tablets.
Users of VPNTunnel are able to discuss problems and troubleshoot their service in real time via the Live Chat customer service desk which is available on the website or by sending emails direct to customer support. Read more about VPNTunnel.
Technical Details

VPNTunnel don't currently store any traffic logs at some of their servers so their promise to guarantee user total anonymity is genuine, where it is legally possibly to do so. The only records the company retains in such countries are email addresses and each username.
It is a legal requirement to maintain traffic logs in some countries however and the company state that where servers are located in countries having this requirement they will only ever provide requested information when legally constrained to do so. The secure encryption of your internet activities extends to your internet service provider as well, they will be unable to maintain standard record logs of customer activities and websites visited. More in this VPNTunnel Review.
The PPTP plan provides 128-bit encryption of all data, while the Open VPN protocol and Premium package give 2048-bit encryption security. When you register with VPNTunnel you can be sure your use of the internet remains anonymous and you have abilities to unblock websites and services by bypassing blocks and censorship placed by your home country. Where VOIP blocks are placed on services such as Skype using a VPN tunnel enables users to bypass them, wherever they happen to be located in the world.
An independent review of the VPNTunnel service and speeds at VPN Comparison indicates the software is simple to order and download, that speeds are not capped and all five servers provided a reliable and fast connection service.
VPN Comparison gives helpful overviews of VPN services suitable for different use cases. You can find the top vpn for web scraping as well as the best services for expats, online banking, online gambling, torrenting and many more use cases.