Registering for virtual private networking with StrongVPN is quite straightforward and the service is available for many systems including Windows, Mac, Linux, Android and iOS. The website provides customer tutorials for easy download of relevant software and has 24/7 technical support available via the website's instant chat service.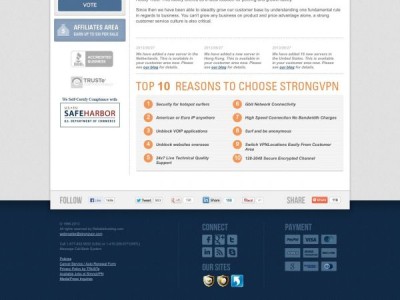 Although StrongVPN don't offer trials of the system they do have a 7-day money back guarantee, if recurrent problems are experienced with the service. Customers can expect to receive unlimited bandwidth with capability to swap servers while using the system.
StrongVPN supplies VPN services from its San Francisco base, having 440 servers based in worldwide locations. A range of virtual private network programmes are available to ensure customers receive total anonymity when using the internet.
Using VPN services is sensible for any internet user who wants to

ensure privacy, anonymity and security. When customers live in countries that restrict or block access to some websites, using a VPN service will assure availability of these services via anonymous, worldwide server access. Business users and frequent travellers also benefit considerably from VPN services which assure security of data transmissions and ensure access to worldwide websites from any remote area of the world. Mobile devices are notoriously insecure as they frequently don't incorporate firewall protection, using your mobile device with a VPN connection encrypts all the transmitted data and ensures protection from cyber criminals, hackers and eavesdroppers.
Available price plans include a basic package at discounted rates, however it only offers the insecure PPTP protocol, the OpenVPN plans range very much in cost and server availabilities, while also providing static IP addresses which are insecure. StrongVPN also provide preconfigured routers, allowing every household internet device to be routed through the same connection. Customers taking out standard price plans are limited to one connection at any one time. More about StrongVPN on this german website.
A recent review of StrongVPN by the UK-based BestVPN website did highlight a number of problems and weak areas with the service including expensive price plans with a need to sign up for a three month minimum period, insufficient privacy guarantees due to use of static IPs and lack of support for users of iOS devices. Speed tests on servers within the StrongVPN network gave fairly good results overall, while the particularly good 24/7/365 technical customer service and company website were particularly praised. The review also noted privacy concerns regarding records kept by StrongVPN.