Invisible Browsing VPN (ibVPN) provide internet users with a complete solution to security, anonymity and censorship problems. Opportunities to conduct invisible browsing allow users to regain freedom of the internet, with no tracking of activities, unlimited server switches and unlimited bandwidth allocations.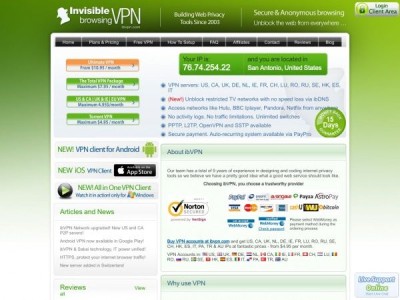 IbVPN offer customers a two hour free trial of the service prior to registration, setting up the connection is simple and only takes a couple of minutes. The company have a variety of price plans including the Premium and Total services and country-specific VPN or torrent VPN. The service offers servers in 23 different locations at present, with dynamic IP addresses available. Family and business plans are also available offering opportunity for multiple connections at the same time. The service is available for most operating systems and devices and also works on Playstation 3 and XBox 360, allowing greater security for frequent gamers.
Invisible Browsing VPN does offer live support services for customers experiencing technical problems with the service or requiring answers to queries. The website also provides detailed technical support and troubleshooting pages. Check out this german review about IBVPN (use google translate).
A virtual private network offers users an encrypted tunnel between their devices and third party servers. It allocates a different IP

address to each user, hiding real IP addresses. This guarantees users increased privacy and anonymity when surfing the net. Third party tracking of VPN users is totally eliminated, cutting out risks of cyber crime, this is particularly important in unsafe locations such as WiFi hotspots. Where customers experience website blocking and censorship from their own country, registration with virtual private networks gives them the opportunity to move their geographic IP address and access blocked sites. This is particularly popular with frequent travellers wishing to access television programmes and movie channels in their home countries. Compare Invisible Browsing VPN with other VPN Services.
Available speeds will depend a great deal upon the customer choice of server and protocol that's used. Changing servers and/or protocols does very often vary speeds achieved, although ibVPN do suggest that customers will probably note a very slight drop in overall speed with their service when compared to speeds offered by the ISP, however this is balanced by the secure encryption of data and removal of ISP opportunities to log consumer information.
IBVPN does not keep user activity logs and guarantees its customers' rights to personal privacy while using the internet. Information that the company does collect is only used to offer customers different services or products and the company will not sell, rent or disclose any information to third parties without prior customer consent.